I can now add that title to my huge list including, worst blogger. Now I could sit here and say that I haven't had time to blog, I could even say I have had nothing to blog about but while both are true I wouldn't be 100% honest if I said they were the main reasons I have been avoiding blogging. I haven't really been feeling myself lately and I have really chosen to stay away rather than share my thoughts. I don't feel like I am really thinking clearly and I am deeply depressed. I would hate to think that I would ever hurt anyone with my words, or negatively affect my CT's in any way, so I have chosen to say nothing. My CT's are not what's bothering me, but I have been scrapping for long enough to know that it doesn't matter that your thoughts are your own and do not represent the designer you CT for, sometimes what you say when you are a CT member negatively affects your designer. But anyway the point I am trying to make is that I have waited until my head was a little clearer before I attempted blogging again. I've thought about things and now that I have something resembling a plan I feel a little happier. I feel ready to focus and get back to doing the things I am supposed to be doing like blogging, clearing my inbox and working on other things on my daily to-do list. I have been busy this month taking part in the Queen Of Scrap contest at Scrap Matters, I am quite proud of the fact that I have scrapped 19 layouts so far. With everything that's been going on, I have spent a lot of nights unable to sleep so I have scrapped to try and take my mind off things. Some of the layouts I have made have taken 4/5 days at a time because I start them and just can't finish them. I have posted my layouts directly from Flickr, so I know I have some enabling to go back and add, I will get to it, but it probably won't be tonight. Right now, I just want to show you what Jane and Jewel have released since I last dusted off my blog. I have already shared the layouts I have made, but I will link to them again to make it easier for you. The last one I enabled for you was Fruit Of The Spirit by Jane, but since that was a while ago you can see my layouts using that one here, here and here. The cardstocks are also no longer free with the kit, but you can buy them separately here. Just as a quick reminder here are the previews.
Then there was In Your Eyes Love by Jewel which was last month's daily download at Digi Scraps Drive In, well that one is now available in the store here. You can see the two layouts I made with that one here and here. The matching cardstocks are also available separately here. You have only seen the sneak peek preview, so here's the full one and the cardstocks for you.
Next up Jane released Strawberry Fields, this one is an updated version of a participation prize for the Irish Kisses Event at Digi Scraps Drive In. I never got around to using that one when it was first released, and I only have one layout so far to share using it. It's a really sweet little kit but I was struggling to find photographs to work with. I know I have some that are similar colours I am just not sure exactly where they are. You can see the layout I have managed to finish right here. You can pick up the kit here, there's also a set of coordinating cardstocks available separately here and here are the two previews.
Jane also released another kit that I didn't work with when it came out, so I am going to share that one with you too. Apple Blossom Time, had me completely lost the first time I looked at it, I don't really have heritage photos, I don't have girly photos to scrap so what was I supposed to do with it? It's a lot more versatile than I gave it credit for, but I still only have one layout to share using it, because I haven't gotten around to finishing the second one sorry. I came across this old photo of Lukas, Conor and Ella in a folder all by itself. I must have run some effect or filter, maybe even messed around with it in Lightroom at some point because it was that pretty pink colour. I actually scrapped that one without a layered template which is huge for me. Although I will admit Jane had already done the hard work with the awesome cluster frame. I love the stitching border in this one, I have reused it on a few other pages already. Anyway I am rambling aren't I. I'll shut up now and get to the important bits. The layout I made (intended to be a wall hanging, maybe printed on canvas) is here. You can pick up the kit here and the matching cardstocks here and here are the two previews.
Jewel released a beautiful kit called Whispered Love. When I first saw this kit, I loved the colours but wasn't quite sure how I was going to use them. I thought it would work perfectly for fantasy style pages unfortunately I don't scrap amazing fantasy pages, mostly because I hate doing photo extractions. My hands are just not steady enough to do a decent job so it took a little bit of thinking about. I managed to scrap two layout with this one, both of which I am really proud of. One of them is about Logan's Bat Suit he had for Halloween and the other one is about Lukas and Leo. You can see them here and here. The kit is available here, this one comes with a beautiful alpha but unfortunately it doesn't have matching cardstocks. Here's the preview.
Jane and Jewel teamed up to add some very cool bits to the Red Genius Enterprises Store. First up is a super sweet hybrid project and pair of printable sticker sets that coordinate with Tea Party At Georgia's (My first CT assignment for them, you have to go back to this post for the details and the layout) but I will add the preview here for you. You can buy them all separately Stickers, Glitter Stickers and Hybrid Printable. If you just want the sticker sets you can pick them up as a bundle, or you could save yourself some money and pick up the complete bundle. I haven't had a chance to sit down and work with these yet but I am looking forward to making them for Ella she will think they are great, and I can be the cool cousin that let's her glue things. I am just going to share the complete bundle preview as everything is included in that.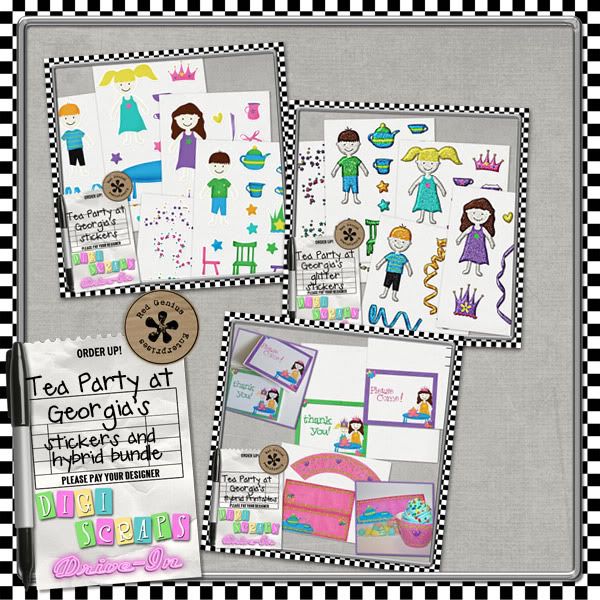 Then they signed up to take part in the May Blog Train. That link will take you to the main "station" and if you scroll back through all of the blogs linked everything should still be available to download, look for posts dated May 1st or close to it. But to make it easy for you, I will link you up to Jane's contribution – Summer Surprises by Little Red Scraps, Jewel's contribution – Summer Surprises by Mad Genius Designs, Jane and Jewel's joint contribution – Summer Surprises by Red Genius Enterprises, the matching store mini and the coordinating cardstocks. If you purchase the mini kit and collect all three mini kits from the blog you will end up with a very cute full kit and even if you buy the cardstocks as well it will only have cost you $3.98, that's an absolute steal. I haven't gotten around to working with this one yet, but here are all of the previews for you. If you combine the top 4 you get the everything in the larger preview, I added the cardstocks for you to see as well.
There are two more things I want to link you up to but I think this post is already image heavy enough so I am going to start a brand new one. The images are all linked up for easy shopping lol, except the Summer Surprises big preview as it's not available as a full size kit yet.